This shop has been compensated by Collective Bias, Inc. and its advertiser. All opinions are mine alone. #StarsOfSummer #CollectiveBias
Do you love Apple Pie? Then this 6-ingredient creamy and delicious No Churn Apple Pie Ice Cream is a perfect way to satisfy your craving. A must-have summer treat!
Finally, summer is here – the best time of the year for outdoor activities and vacations. After the looooong, hard winters, we look forward to some warm weather and therefore Summer, we welcome you with open arms!!
One of the best things I like about summertime is picnics, parties, and gatherings. The warm, pleasant weather calls for some social time outdoors with loads of food, drinks and not to the forget ice creams.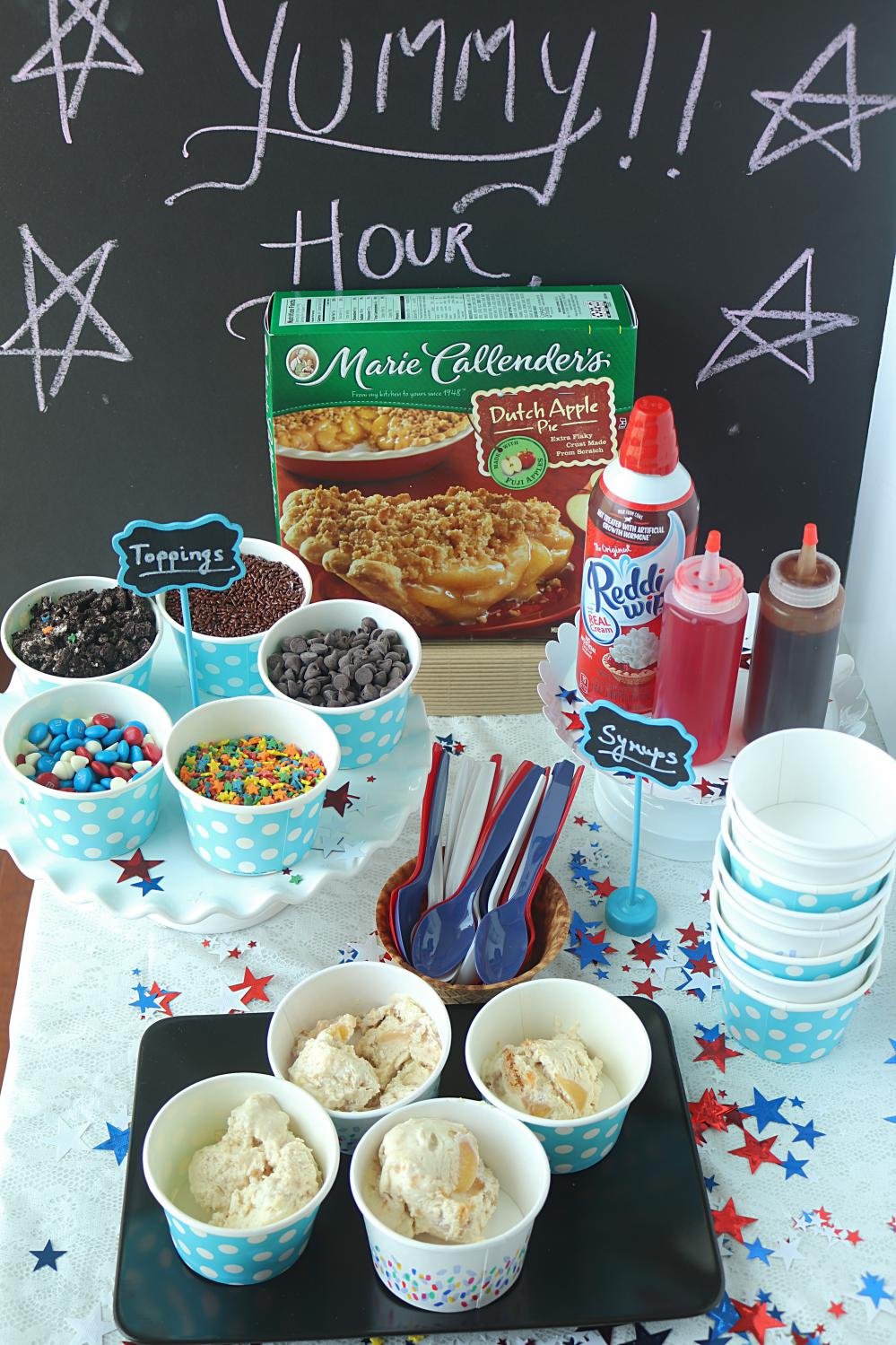 Yay, ice creams!!
I think summer should be officially declared an ice cream season. And today's recipe post is all about a rich and creamy apple pie ice cream. Whether you're feeding a small gathering or a large crowd, this No Churn Apple Pie Ice Cream is a perfect fit!!
This recipe uses Marie Callender's® Pies + Reddi–wip® combo. What I love about Marie Callender's® Pies is that it is made with wholesome, real ingredients and are so filling and satisfying.
This easy-to-make ice cream:
Requires minimal effort on your part

Is made with just six essential ingredients

It takes 15 minutes to mix everything (minus the pie baking time)

Cover and pop in the freezer.
The result is a homemade delicious and creamy ice cream with chunks of apple pie embedded throughout the ice cream!
An Ice Cream Social Hour!
To introduce this ice cream to my guests, I had planned an Ice cream social called the yummy hour! Something that can be enjoyed after dinner. Setting up the yummy hour social is pretty simple. You lay out the table with:
colorful spoons,

your favorite toppings, 

Reddi

–

wip

®,

chocolate and other syrups,

waffle bowls and

off-course the Star – dessert – of – the – evening – No Churn Apple Pie Ice Cream made with Marie Callender's® Pies!!
Other topping ideas!
I had used all that I had on hand but feel free to use
fresh berries,

chopped nuts,

crushed crackers,

fudge sauce,

bananas,

caramel sauce and so on. The possibilities are endless.
Place all the toppings in paper cups or waffle bowls or mason jars and let the kids and your guests help themselves. This ice cream social yummy hour is always a hit with adults and kids.
Now on to the recipe!
It's a perfect make-ahead dessert. Prepare the ice cream base a day in advance and refrigerate. The base for no-churn ice cream is a pretty standard one. Heavy whipping cream + milk powder + condensed milk + salt + essence creates the most creamy and smooth ice cream.
For the Marie Callender's® Pies, bake pie as directed on the package. You can bake the pie a day in advance too. Allow it to cool completely. Do not add a hot pie to the ice cream base. When cooled, mix pie in the ice cream mix and freeze overnight.  
This recipe makes a huge batch, perfect for feeding a large crowd.

If you are headed to your local Walmart store, then do look for  Reddi–wip® in the milk section and Marie Callender's® Pies in the Ice cream section.  Choose your favorite pie flavor and create this easy-to-make ice cream. Your friends and family will love this treat. 
I encourage you to give this recipe a try and share your feedback! If you have questions related to this recipe, send me an email, and I would be happy to answer them. We'd love to hear from you. ?
Craving for more, try these other options!
Thanks for reading.?
Have you tried this recipe?
Leave a star rating by clicking on the ⭐ below!
No Churn Apple Pie Ice Cream
Do you love Apple Pie? Then this 6-ingredient creamy and delicious No Churn Apple Pie Ice Cream is a perfect way to satisfy your craving.
INGREDIENTS
TOPPINGS
Reddi-wip

Crushed cookies

Semi- sweetened Chocolate chips

White chocolate chips

Sprinkles

Marshmallows
INSTRUCTIONS
Unwrap the pie and ....

Bake according to package instructions.

Meanwhile assemble ingredients for ice cream.

Before you start chill the whisk attachment and bowl in the refrigerator for 10-15 minutes.

Pour whipping cream to the chilled bowl.

Add milk powder.

Turn the mixer or hand blender to a medium speed and start whipping the cream.

Add salt.

Within 2- 3 minutes, the cream will start to get frothy and thicken up, keep mixing until the whipped cream increased in volume and is fluffy and airy.

Pour in vanilla essence

Mix it well.

In a big container combine condensed milk. I have used 1 full can of condensed milk (14 oz= 1 &1/3 cup) and 1/3 can of (14 oz) condensed milk.

Add whipped cream to condensed milk.

Mix until smooth and creamy. Refrigerate the ice cream mix.

Once the pie is baked, remove from oven and allow to cool completely. It will take 4-6 hours for the pie to cool.

Add cooled apple pie to the ice cream.

Mix until combined.

Freeze until firm.

Make yourself a big scoop.

Place it in a waffle bowl.

Drizzle with chocolate syrup.

Generously top with Reddi-wip.

Add toppings of your choice.

And enjoy the most yummiest homemade ice-cream with Marie Callender's Dutch Apple Pie and Reddi-wip!!
NUTRITION
Calories:
403
kcal
|
Carbohydrates:
25
g
|
Protein:
8
g
|
Fat:
30
g
|
Saturated Fat:
19
g
|
Cholesterol:
113
mg
|
Sodium:
165
mg
|
Potassium:
388
mg
|
Sugar:
23
g
|
Vitamin A:
1175
IU
|
Vitamin C:
2.6
mg
|
Calcium:
284
mg
|
Iron:
0.2
mg
Disclaimer:
Nutritional information provided above is approximate. Variations may exist due to the ingredients/brands used. Please refer to a Registered Dietitian or Nutritionists if you have any health issues.
Are you Going to make this recipe?
Take a picture and mention @ruchiskitchen! I would LOVE to see how it turned out for you!